Enjoy an old-fashioned Japanese-style atmosphere with a taste of fresh seasonal meal courses.
The Hida region is a place where you can feel the changes in seasons.
Our chefs' specialties are prepared to create a colorful monthly kaiseki menu according to the season and the bounty of the region.
Dishes are served according to seasons:
Spring: wild vegetables
Summer: river fish
Autumn: mountain delicacies
Winter: cold yellowtail from Himi Bay.
Please enjoy the food and your stay here in Hida region.
Delicacies of Hida region
Hida Beef: We offer a great quality meat raised from the Hida Furukawa area.
Ayu Fish (available from summer to autumn only)
Iwana (rockfish: available every season)
Yamame (mountain lionfish: available every season)
Sweet Ayu Fish: Ayu Fish with fish eggs: available in late autumn
Ayu Fish: salt-grilled food slowly grilled over charcoal.
Mountain Products: Blessings of the mountains in every season.
Spring: wild vegetables Autumn: mushrooms Tiger blowfish or pufferfish: grown in Hida's mountain waters
Torafugu (blowfish or pufferfish) is farmed in Hida, with traditional vegetables, rice from Hida, etc.
"Sowa-ryu Honzen" is based on "Sowa-ryu Tea Ceremony" which originated from the Kanamori family who ruled the Hida region since the Warring States Period.
This menu is the best Hida feast, created in harmony with "honzen ryori," which was established in the Muromachi period (1336-1573) as a cooking style for court nobles and warriors.
The Hida feast consists of rice, soup, and a variety of other dishes served with a cup of Japanese sake.
The course is followed right after each course including tea and sweets before the main course.
The main course features a combination of simple mountain and Toyama seafood dishes.
The rare combination of simple mountain and Toyama seafood dishes is a reminder of the gracious hospitality of the Hida people in the olden times.
The guests can feel this hospitality and can also enjoy the footed tableware that has been used for more than 130 years.
Nostalgic Hida Zai Go cuisine
Rice is cooked in time for breakfast.
Enjoy the countryside cooking style such as Hoba-miso (bean paste), which has been eaten in Hida for a long time, Komodo-dofu, Gisei-yaki, and Koro-imo.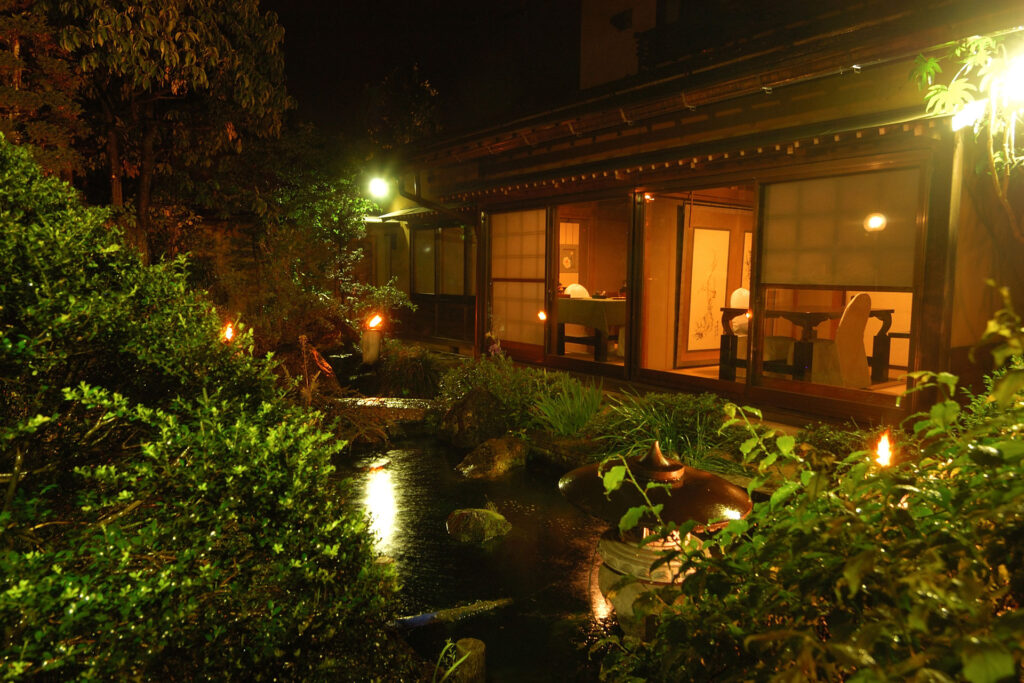 Dinner and breakfast are served in a private room.